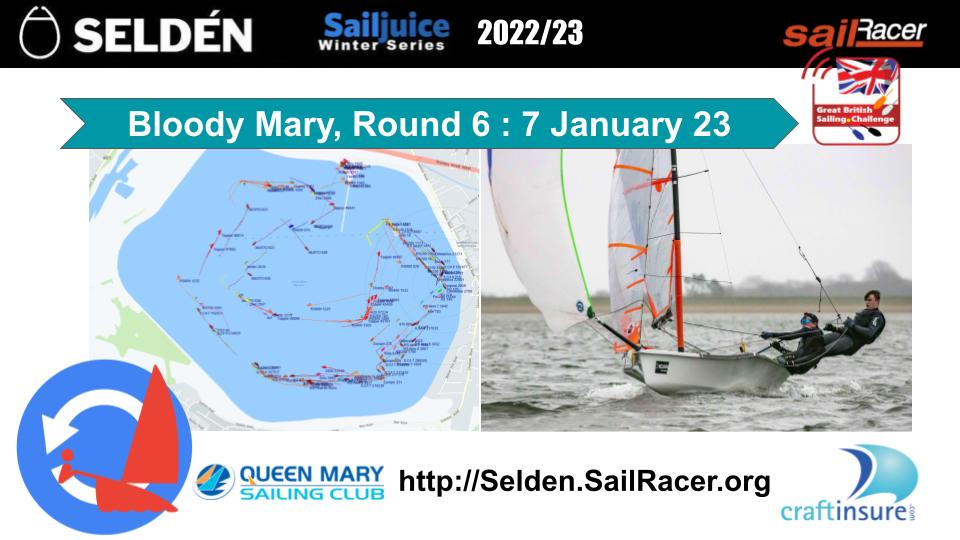 James Crossley and Noah Fitzgerald blast their 29er skiff to a dominant victory on a breezy leg 6 of the Seldén SailJuice Winter Series...
Two 17-year-olds have won the GJW Direct Bloody Mary pursuit race, the sixth leg of the Seldén SailJuice Winter Series.
James Crossley and Noah Fitzgerald (Hayling Island SC), crossed the line in their 29er skiff after 1 hour and 39 minutes of high speed racing around Queen Mary reservoir in south-west London.
The young team came out on top of a high-quality fleet of 146 boats, representing 43 boat classes from 68 sailing clubs. Among the fleet were Olympic medallists and world champions across a range of dinghy classes. As ever, the race started at midday with the departure of the slowest boats in the handicap fleet, the Topper singlehanders. The faster boats waited their turn until it was time for them to get underway in the tortoise-and-hare format.
With the breeze frequently blowing over 20 knots, at one point gusting to 32, this was always likely to be a good race for the faster trapeze boats. However, some of the better sailed hiking boats were also able to fight their way into contention for a top-10 finish.
In so much breeze around such a demanding race course, it was inevitable that some would drop out. A total of 99 boats crossed the finish line. Soon after coming ashore, winning helm James Crossley said: "It was pretty pumpy at the start and died towards the end which was nice because we were struggling. It was windy. But we were confident we could catch the boats ahead of us and come in first. The last time I did this race was in a Topper and it was a completely different experience."
His crew, Noah Fitzgerald, said: "We've done quite a lot of training recently and we've been pushing a lot recently to keep the stick up and make it look it pretty." Clearly the training paid off. Winning the Bloody Mary is the perfect start to a year when this talented team are looking to win the 29er World Championships before moving into a 49er.

Results

Martin Pue, race director, said: "The 47th GJW Direct Bloody Mary was a huge success with a great turnout, despite the challenging weather conditions. It was impressive to see nearly 30 youth helms, 16 Grand Masters and a whole range of ages in between."
While the top six places went to different trapeze boats, the next four places all went to different hiking boats. The only class to score twice in the top 10 was the 420 in 5th and 6th overall.
"It was a competitive race, reflected in the top ten prizes awarded to boats across nine different classes," said Pue. "The race was extremely well organised, something we have come to expect from Queen Mary Sailing Club in recent years. Huge thanks must go to the 50+ volunteers and the race management team, safety teams and staff who worked tirelessly throughout the day.
"We would like to thank our title sponsors GJW Direct and also the Seldén SailJuice Winter Series."

Top 3 overall

1st – James Crossley & Noah Fitzgerald, 29er, Hayling Island Sailing Club
2nd – Sam Pascoe, Musto Skiff, Castle Cove Sailing Club
3rd – DJ Edwards & Vyv Townend, Fireball, Bough Beech Sailing Club

First Lady Helm: Amelie Hiscocks, 29er, Weymouth and Portland Sailing Club
First Queen Mary Helm: Chris Eames, RS400, Queen Mary Sailing Club
Grand Master: Steve Cockerill, Europe, Stokes Bay Sailing Club
First Junior Helm: James Crossley, 29er, Hayling Island Sailing Club


Class prizes were also awarded to:



ILCA 6 – Samantha Edwards, Queen Mary Sailing Club
Musto Skiff – Sam Pascoe, Castle Cove Sailing Club
RS200 – Ian Whaley & Lorna Glen, Parkstone YC
RS800 – Ben Palmer & Dicken MacLean, Hayling Island Sailing Club
RS400 – Ollie Groves & Martin Penty, Beaver Sailing Club
Topper – Piotr Tokajuk, Queen Mary Sailing Club
THE EVENTS
The following events are in the Seldén SailJuice Winter Series 2022/23:
Fernhurst Books Draycote Dash, Draycote Water Sailing Club
20 & 21 November 2022
Datchet Flyer, Datchet Water Sailing Club
3 & 4 December 2022
Yorkshire Dales Brass Monkey, Yorkshire Dales Sailing Club
27 December 2022
Burghfield Breezer, Burghfield Sailing Club
27 December 2022
Gill Grafham Grand Prix, Grafham Water Sailing Club
2 January 2023
GJW Direct Bloody Mary, Queen Mary Sailing Club
7 January 2023
King George Gallop, King George Sailing Club
21 January 2023
John Merricks Tiger Trophy, Rutland Sailing Club
4 & 5 February 2023
Oxford Blue, Oxford Sailing Club
18 February 2023
Prizegiving at RYA Dinghy Show, Farnborough
25 February 2023
Website: www.sailjuice.com
Photo Credits: Tim Olin
Notes to editors:
Previous winners of the Seldén Sailjuice Winter Series
2021/22 Roger Gilbert & Ben McGrane (505)
2020/21 Simon Horsfield & Katie Burridge/ Natalie Johnson (2000)
2019/20 Simon Horsfield & Katie Burridge (2000)
2018/19 Simon Horsfield & Katie Burridge (2000)
2017/18 Alistair Goodwin (Laser)
2016/17 Matt Mee & Emma Norris (RS200)
2015/16 Ian Dobson & Andy Tunnicliffe (GP14)
2014/15 Nick Craig & various crews (Merlin Rocket)
2013/14 Michael Sims (Solo)
2012/13 Tom Gillard & Simon Potts (Fireball)
2011/12 Peter Gray & Rachael Rhodes (Scorpion)
2010/11 Andy Peake (Musto Skiff)
2009/10 Olly Turner & Richard Whitworth (Merlin Rocket)
SailJuice.com is the 'how to sail and race faster' website, with hundreds of articles and exclusive interviews with National, World and Olympic Champions. Professional sailing journalist and editor of SailJuice.com, Andy Rice, came up with the concept of the SailJuice Winter Series (originally known as the SailJuice Global Warm-Up) as a way of increasing participation levels in dinghy racing during the off-season in the UK.
SailRacer manages event websites and processes online entry for major National, International, Youth and training events, providing online scoring, analysis and advanced sports presentation including GPS tracking and live video.
Seldén Mast Ltd is the world leader in dinghy spars. More races are won by Seldén Spars than any other brand. Dinghy spars are made using Seldén unique XPS aluminium with CNC cut tapers, automated welding and heat treating resulting in the highest quality and most consistent dinghy spars available. Seldén also produces about 400 carbon masts per year for boats including high performance dinghies and race yachts using state of the art Mandrel Filament Moulding Technology.
Craftinsure aims to make boat insurance as effortless as possible with an easy to navigate website and app which allows you to make changes to your cover quickly and with ease. With 'New for Old' cover at competitive prices, Craftinsure insures over 25,000 boats with excellent customer reviews which you can read on Trustpilot.