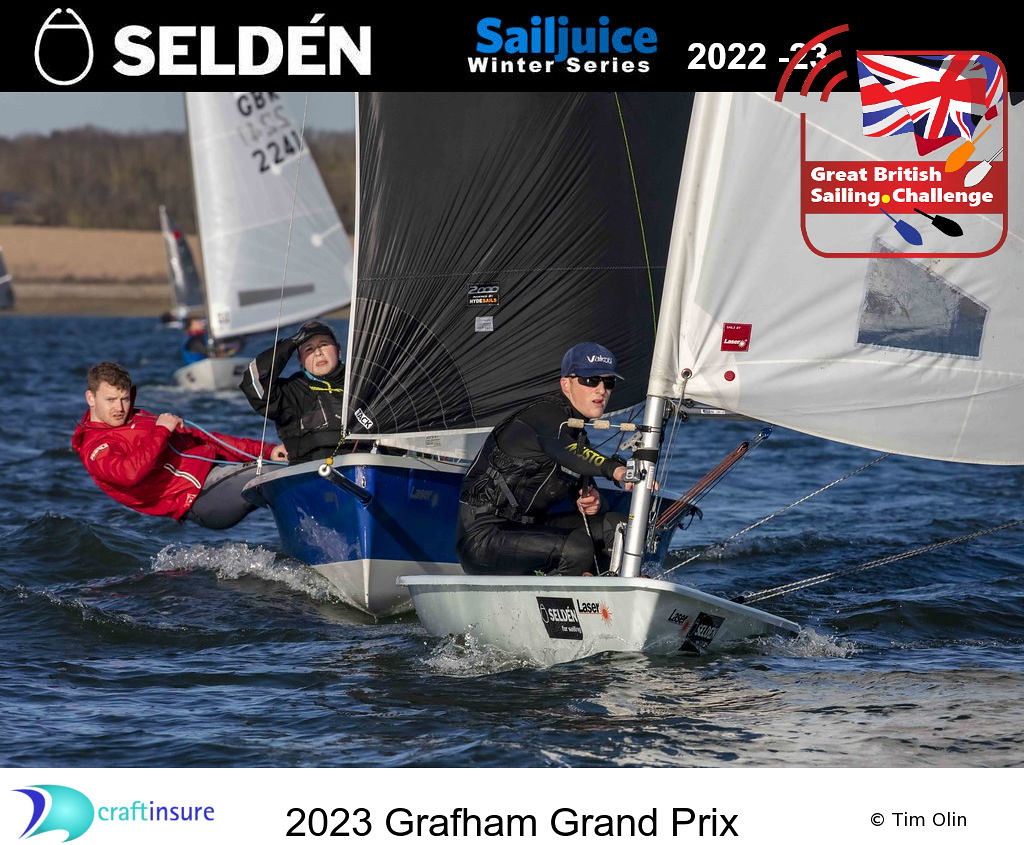 A fleet of 117 boats enjoyed glorious midwinter weather at the Gill Grafham Grand Prix, the fifth stage of the Seldén SailJuice Winter Series. Event No.6, the GJW Bloody Mary, is shaping up to be a classic this Saturday, with a mild and breezy south-westerly on the cards...
A fleet of 117 boats have just enjoyed a fantastic start to 2023 at the Gill Grafham Grand Prix, the latest event in this season's Seldén SailJuice Winter Series. Online entry for the next event, the GJW Direct Bloody Mary, is closing at midnight on Wednesday 4 January, so get your entry in ASAP and join the other 80-odd boats already signed up for the class Pursuit Race.
THE GILL GRAFHAM GRAND PRIX
Sparkling sunshine and light to moderate breeze made for some tight handicap competition across the three racing divisions...
Fast Handicap: Clegg pips Gilbert & McGrane to the post
Last year's overall champions in the Seldén SailJuice Winter Series, Roger Gilbert & Ben McGrane (Netley SC), were fast out of the blocks in their 505. They won the first race were third in the next, but subsequent performances weren't quite good enough to fend off Ben Clegg (Brightlingsea SC) who notched up a 2,1 in his Musto Skiff and discarded a 3rd place in the last race of the afternoon. The 505 team finished runners-up, just a point off the lead, while third overall went to recent winners of the Yorkshire Dales Brass Monkey, RS400 sailors Ollie Groves & Martin Penty (Beaver SC), who won the last race of the afternoon. First multihull and just a point off the overall podium in 4th place was the Formula 18 sailed by Grafham Water SC's John Sweet & Reece Webb.
Medium Handicap: Osprey edges out the Fireball
Dave Hall & Paul Constable (Blackwater SC) have been racing Fireballs together for the best part of 30 years, and a race win at Grafham suggests they remain right at the top of their game. The Fireball duo were 3rd in the next race, almost but not quite good enough to give them victory in Medium Handicap. Pete Gray & Geoff Edwards (Staunton Harold SC) have been consistent performers in this edition of the Seldén SailJuice Winter Series, and scores of 2, (2), 1 were just enough to give the Osprey sailors the overall win by a point from Hall & Constable. In 3rd overall with a 3,4, (13.5) score was Josh Wilce's RS300 hiking singlehander from Rutland SC. Other notable performances were a race win for the RS200 of Alice Davis & Alastair Brown (GMSC/ DWSC) and a 2nd place in the final race for Nick Craig (Burghfield SC), this time choosing to race a Finn. Great also to see an appearance from that rare bird, the Albacore, with Matt Biggs & Mark Fowler (Bartley SC) scoring a 3rd in the last race.
Slow Handicap: Horsfields hike to a 2000 hat trick
For three years running, Simon and Katie Horsfield (Thorney Island SC) dominated the Seldén SailJuice Winter Series in their 2000 doublehander. A hat trick is exactly what the recently married duo achieved at Grafham, winning all three races of Slow Handicap. Multiple masters world champion Jon Emmett (Weir Wood SC) was best of the rest, racing his Laser/ ILCA 7 to second overall with three straight 2nds, followed by his closest Laser rival Ben Flower (Paignton SC) with three straight 3rds.
Fastest on the Water and on Handicap
With every boat tracked by SailRacer GPS trackers, the fastest boat on the water was the 505 of Gilbert & McGrane at 9.03 knots. However the fastest on corrected handicap were the ever-steady Hall & Constable in their Fireball.
Overall after 5 of 9 Events
After five events, Roger & Iain Blake (Great Moor SC) maintain the overall lead in their Osprey ahead of Paul Young & Alex Homer's Enterprise (Midland SC). Gray & Edwards' success at Grafham moves their Osprey up to 3rd overall. But with four big winter events still to go, it's still very possible for the likes of previous season winners such as Gilbert & McGrane or the Horsfields to put together a winning set of scores.
https://enter.sailracer.org/eventsites/content.asp?eventid=224528&id=48408
Bloody Mary on 7 January
Online entry for the GJW Direct Bloody Mary closes at midnight Wednesday 4th January. There are some big names already entered, including many former winners and some Olympic medallists in the mix.
You can watch the Online Briefing for the Bloody Mary here:
https://www.youtube.com/watch?v=gH8sFLrSEbo&t=71s
Online entry for all the events in the series is available at www.sailjuiceseries.com
THE EVENTS
The following events are in the Seldén SailJuice Winter Series 2022/23:
Fernhurst Books Draycote Dash, Draycote Water Sailing Club
20 & 21 November 2022
Datchet Flyer, Datchet Water Sailing Club
3 & 4 December 2022
Yorkshire Dales Brass Monkey, Yorkshire Dales Sailing Club
27 December 2022
Burghfield Breezer, Burghfield Sailing Club
27 December 2022
Gill Grafham Grand Prix, Grafham Water Sailing Club
2 January 2023
GJW Direct Bloody Mary, Queen Mary Sailing Club
7 January 2023
King George Gallop, King George Sailing Club
21 January 2023
John Merricks Tiger Trophy, Rutland Sailing Club
4 & 5 February 2023
Oxford Blue, Oxford Sailing Club
18 February 2023
Prizegiving at RYA Dinghy Show, Farnborough
25 February 2023
Website: www.sailjuice.com
Photo Credits: Tim Olin
Notes to editors:
Previous winners of the Seldén Sailjuice Winter Series
2021/22 Roger Gilbert & Ben McGrane (505)
2020/21 Simon Horsfield & Katie Burridge/ Natalie Johnson (2000)
2019/20 Simon Horsfield & Katie Burridge (2000)
2018/19 Simon Horsfield & Katie Burridge (2000)
2017/18 Alistair Goodwin (Laser)
2016/17 Matt Mee & Emma Norris (RS200)
2015/16 Ian Dobson & Andy Tunnicliffe (GP14)
2014/15 Nick Craig & various crews (Merlin Rocket)
2013/14 Michael Sims (Solo)
2012/13 Tom Gillard & Simon Potts (Fireball)
2011/12 Peter Gray & Rachael Rhodes (Scorpion)
2010/11 Andy Peake (Musto Skiff)
2009/10 Olly Turner & Richard Whitworth (Merlin Rocket)
SailJuice.com is the 'how to sail and race faster' website, with hundreds of articles and exclusive interviews with National, World and Olympic Champions. Professional sailing journalist and editor of SailJuice.com, Andy Rice, came up with the concept of the SailJuice Winter Series (originally known as the SailJuice Global Warm-Up) as a way of increasing participation levels in dinghy racing during the off-season in the UK.
SailRacer manages event websites and processes online entry for major National, International, Youth and training events, providing online scoring, analysis and advanced sports presentation including GPS tracking and live video.
Seldén Mast Ltd is the world leader in dinghy spars. More races are won by Seldén Spars than any other brand. Dinghy spars are made using Seldén unique XPS aluminium with CNC cut tapers, automated welding and heat treating resulting in the highest quality and most consistent dinghy spars available. Seldén also produces about 400 carbon masts per year for boats including high performance dinghies and race yachts using state of the art Mandrel Filament Moulding Technology.
Craftinsure aims to make boat insurance as effortless as possible with an easy to navigate website and app which allows you to make changes to your cover quickly and with ease. With 'New for Old' cover at competitive prices, Craftinsure insures over 25,000 boats with excellent customer reviews which you can read on Trustpilot.