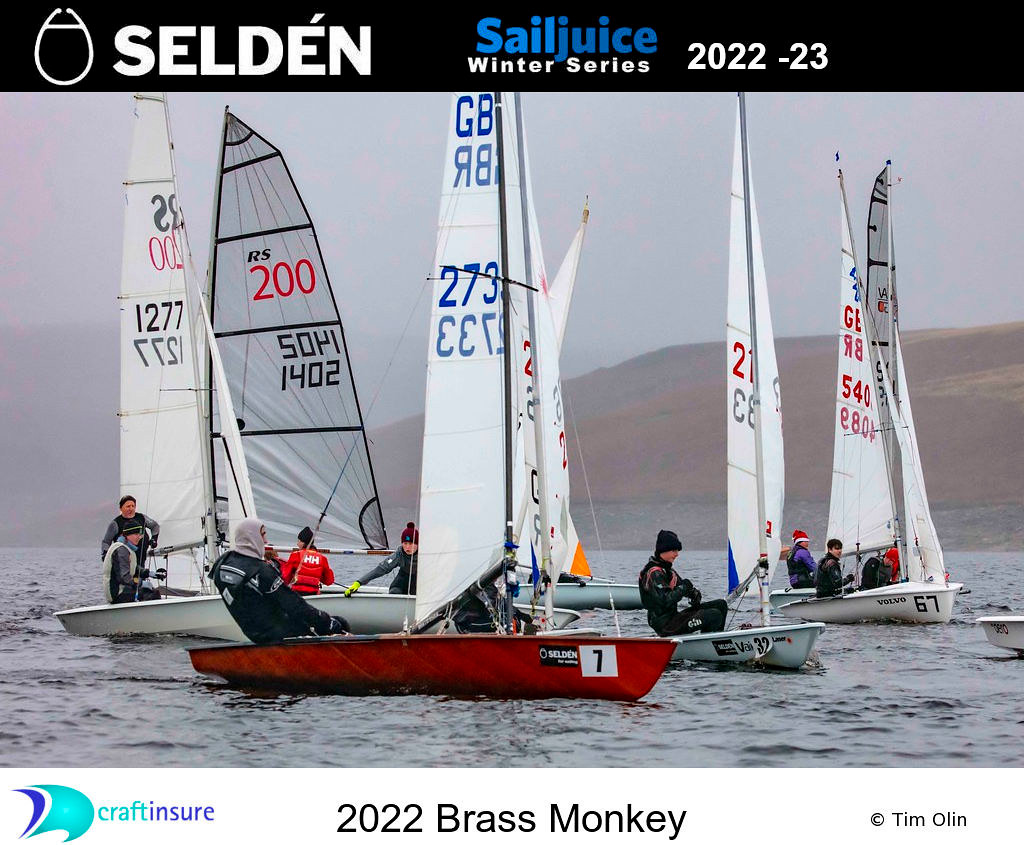 Ollie Groves & Martin Penty's RS400 won a lighter-than-expected Yorkshire Dales Brass Monkey, part of the Seldén SailJuice Winter Series...
Two events in the Seldén SailJuice Winter Series on the same day, 27 December, and two quite different events at opposite ends of England. While the Burghfield Breezer was taking place down south in Berkshire, the Brass Monkey was being contested at Yorkshire Dales Sailing Club.

With a forecast of big winds and rain later in the day, it was decided to hold both races back to back, followed by the legendary Brass Monkey lunch, which is always offered free to competitors. This change in format was well received and allowed people to get away and on their way home sooner, which was just as well with the torrential rain on the roads.

The day started near freezing, with overnight rain freezing which made the roads rather slippy through the Dales. Principal race officer Imogen Gibb set an M-shaped course, making the most of the still low Grimwith levels and giving the many spectators some great viewing from the YDSC clubhouse.

Race 1 took place in 5 knots of wind, although a keen fleet on a crowded line led to a general recall. The PRO's move to the black flag meant a clean start next time. Defending champions, Ollie Groves and Martin Penty (RS400 Beaver SC), managed to get ahead of a close pack and Phantoms and other RS400s on the second lap and hold the lead to the finish, finishing early two minutes of the next RS400 of Stu Halman and Anna Walsh (Leigh & Lowton SC), giving Groves and Penty a big win on corrected time.

GOOD DAY FOR THE RS400

Race 2 got away at the first attempt, in around 7 knots of breeze, and was a much closer battle on corrected time. It was still Groves and Penty who were first again, with Archie Burton (Radial Beaver SC) just behind on corrected time.

As the winners of both races, Groves and Penty took the overall victory at the Brass Monkey, with two Phantoms in second and third place respectively, Burton Sailing Club's Duncan Adams and Carl Gibbon.
Results

Kick off your New Year with the Grafham Grand Prix

Four events completed in late 2022, and five remaining for early 2023. The first of these is this weekend, on 2 January the Grafham Grand Prix takes place not far from Huntingdon.

Almost 80 boats are already entered, including A-Class and Formula 18 catamarans and some Flying 15 keelboats, as well as the usual good spread of dinghy classes.

Online entry for all the events in the series is available at www.sailjuiceseries.com

ENTER HERE

Online Prizegiving and Update at 5pm on Friday 30 December

Series organisers Simon Lovesey and Andy Rice will be hosting a Facebook Live event at 7pm on Friday 30 December, with an online wrap-up of the Brass Monkey and Burghfield Breezer, and a look forward to the rest of this season's Seldén SailJuice Winter Series. The winner of another Seldén R60 ratchet block will also be announced, based on which sailor's photo by series photographer Tim Olin has featured prominently in social media. Join the live show this Friday...
SailRacer GP Tracking


THE EVENTS

The following events are in the Seldén SailJuice Winter Series 2022/23:

Fernhurst Books Draycote Dash, Draycote Water Sailing Club
20 & 21 November 2022

Datchet Flyer, Datchet Water Sailing Clu
3 & 4 December 2022

Yorkshire Dales Brass Monkey, Yorkshire Dales Sailing Club
27 December 2022

Burghfield Breezer, Burghfield Sailing Club
27 December 2022

Grafham Grand Prix, Grafham Water Sailing Club
2 January 2023

Bloody Mary, Queen Mary Sailing Club
7 January 2023

King George Gallop, King George Sailing Club
21 January 2023


John Merricks Tiger Trophy, Rutland Sailing Club
4 & 5 February 2023

Oxford Blue, Oxford Sailing Club
18 February 2023

Prizegiving at RYA Dinghy Show, Farnborough
25 February 2023

Photo Credits: Tim Olin

Previous winners of the Seldén Sailjuice Winter Series

2021/22 Roger Gilbert & Ben McGrane (505
2020/21 Simon Horsfield & Katie Burridge/ Natalie Johnson (2000)
2019/20 Simon Horsfield & Katie Burridge (2000)
2018/19 Simon Horsfield & Katie Burridge (2000)
2017/18 Alistair Goodwin (Laser)
2016/17 Matt Mee & Emma Norris (RS200)
2015/16 Ian Dobson & Andy Tunnicliffe (GP14)
2014/15 Nick Craig & various crews (Merlin Rocket)
2013/14 Michael Sims (Solo)
2012/13 Tom Gillard & Simon Potts (Fireball)
2011/12 Peter Gray & Rachael Rhodes (Scorpion)
2010/11 Andy Peake (Musto Skiff)
2009/10 Olly Turner & Richard Whitworth (Merlin Rocket)


SailJuice.com is the 'how to sail and race faster' website, with hundreds of articles and exclusive interviews with National, World and Olympic Champions. Professional sailing journalist and editor of SailJuice.com, Andy Rice, came up with the concept of the SailJuice Winter Series (originally known as the SailJuice Global Warm-Up) as a way of increasing participation levels in dinghy racing during the off-season in the UK.

SailRacer manages event websites and processes online entry for major National, International, Youth and training events, providing online scoring, analysis and advanced sports presentation including GPS tracking and live video.

Seldén Mast Ltd is the world leader in dinghy spars. More races are won by Seldén Spars than any other brand. Dinghy spars are made using Seldén unique XPS aluminium with CNC cut tapers, automated welding and heat treating resulting in the highest quality and most consistent dinghy spars available. Seldén also produces about 400 carbon masts per year for boats including high performance dinghies and race yachts using state of the art Mandrel Filament Moulding Technology.

Craftinsure aims to make boat insurance as effortless as possible with an easy to navigate website and app which allows you to make changes to your cover quickly and with ease. With 'New for Old' cover at competitive prices, Craftinsure insures over 25,000 boats with excellent customer reviews which you can read on Trustpilot.
face