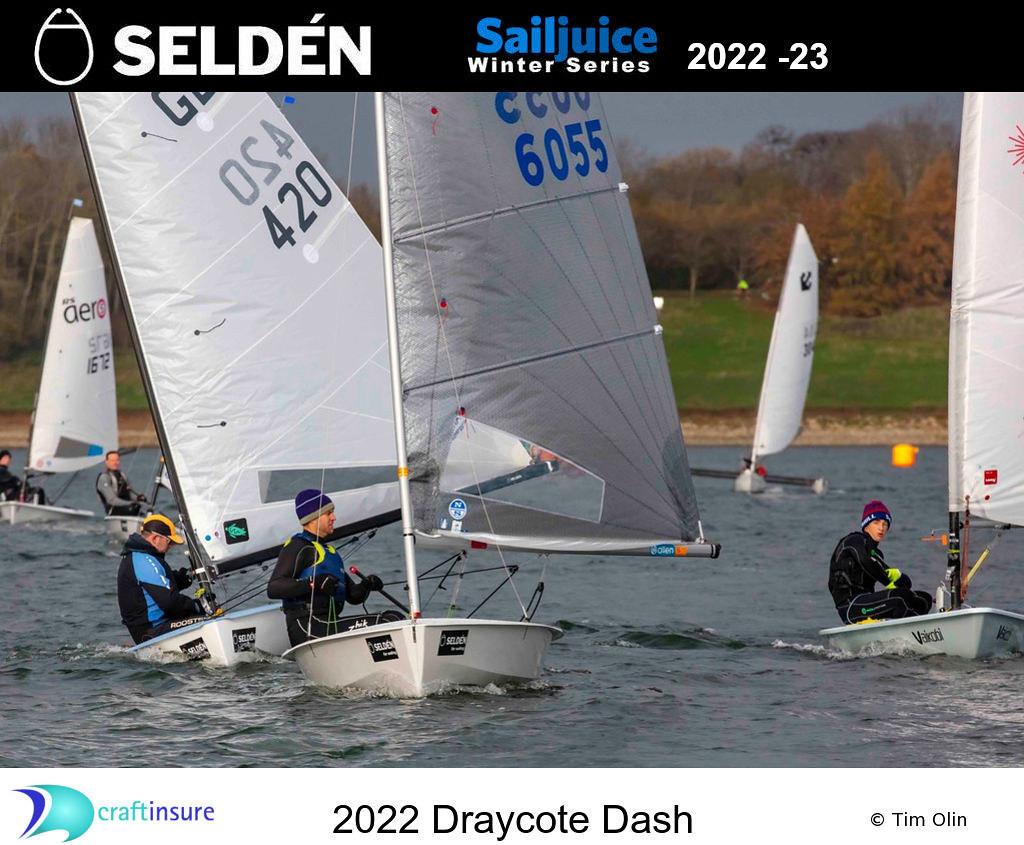 Richard Pye held off the faster boats in his RS Aero 7 to win Sunday's Pursuit Race and clinch overall victory in the Fernhurst Books Draycote Dash. The first event of nine in this season's Seldén SailJuice Winter Series, Pye won by the smallest of margins, beating overnight leader Jonathan Swain's Solo by a single point.

The event drew a diverse gathering of 62 entries, ranging in size and speed from the Topper to the VX One sportsboat, and in age from early teens to late seventies.
Results
Saturday started fine for the scheduled four back-to-back handicap races around a quadrilateral course on Draycote Water. Despite the wind dropping for the last two races of the afternoon, the race team were determined to complete a full schedule of four and ran the two latter races as one-lappers.

Back in 2011/12 Peter Gray and Rachael Rhodes raced together in a Scorpion to become outright winners of that season's Seldén SailJuice Winter Series. Now married, Peter and Rachael (now Gray) are competing against each other as rival helms while both representing Staunton Harold Sailing Club. Between them the Grays won three of the four races on Saturday, Peter and his crew Geoff Edwards sailing their Osprey to handicap victory in heats one and four while Rach Gray and her crew Amy Clay sailed their Scorpion to a win in race three.

Gray and Clay's Scorpion was the most consistent across the day with scores of 4,2,1,5 showing impressive form in the variable breeze. However with one discard permitted, Jonathan Swain's Solo from Carsington became overnight leader counting scores of 2,1,2 and dropping in 8th in the last heat of the afternoon.

For Sunday's 120-minute pursuit race there was a good 10 knot breeze blowing. Dilara Soyer from the home club led for a long time in her Topper but was eventually overhauled by the Aero 7s of Richard Pye and Joe Scurrah. They in turn managed to stay ahead of the fast approaching Musto Skiff of Richard Smith at the finish. It was Scurrah's second time in a row as bridesmaid in the Dash pursuit which lifted him to 4th overall.

Victory in the non-discardable pursuit race proved sufficient for Richard Pye to win the event outright. This is the first time a home boat has won the Draycote Dash, and for his efforts Richard was awarded with the final copy of the late Bob Fisher's history of the America's Cup, the weighty tome known as An Absorbing Interest, published by Fernhurst Books. Fun fact: Richard was also the principal race officer for the Dash the previous year, and so winning a year later was an extra reward for his commitment to the event's success.

Seldén Sticker Winners
Richard Le Mare from series sponsor Seldén was on hand to help sailors attach their Seldén stickers before racing on Saturday. With spot prizes or Seldén R60 ratchet blocks being awarded to sailors with stickers, Tim Laws' Europe won Saturday's R60 and the RS200 of James Williams & Sarah Tuppen won Sunday's R60.

Top Fastest boats as measured by the SailRacer trackers were the VX One skippered by former Dash winner Andy Couch and Richard Smith's Musto Skiff. For handicap-corrected speed, the winners were Val Millward's Challenger and Richard Le Mare racing his Hadron H2 singlehander.
SailRacer GPS Tracking


This was the last year for Jeremy Atkins to run the Draycote Dash as event director. Next season he hands over to his Fireball crew and long-time participant in many of the events on the Seldén SailJuice Winter Series, Richard Botting.

Online Prizegiving and Update at 7pm on Thursday 24 November
Series organisers Simon Lovesey and Andy Rice will be hosting a Facebook Live event at 7pm on Thursday 24 November, with an online wrap-up of the Draycote Dash and a look forward to the rest of this season's Seldén SailJuice Winter Series.
https://www.facebook.com/SeldénSailJuiceWinterSeries

Enter the Datchet Flyer in early December
Enter Here


It's less than two weeks until the Datchet Flyer near Heathrow Airport, taking place on 3 & 4 December.

Online entry for the event, and all others in the series, is open at www.sailjuiceseries.com

Enter Here


THE EVENTS




The following events are in the Seldén SailJuice Winter Series 2022/23:





Fernhurst Books Draycote Dash, Draycote Water Sailing Club

20 & 21 November 2022



Datchet Flyer, Datchet Water Sailing Club

3 & 4 December 2022



Yorkshire Dales Brass Monkey, Yorkshire Dales Sailing Club

27 December 2022



Burghfield Breezer, Burghfield Sailing Club

27 December 2022



Grafham Grand Prix, Grafham Water Sailing Club

2 January 2023



Bloody Mary, Queen Mary Sailing Club

7 January 2023



King George Gallop, King George Sailing Club

21 January 2023



John Merricks Tiger Trophy, Rutland Sailing Club

4 & 5 February 2023


Oxford Blue, Oxford Sailing Club

18 February 2023



Prizegiving at RYA Dinghy Show, Farnborough

25 February 2023




You can find out more about the Series here: www.SailJuiceSeries.com





Notes to editors:


Previous winners of the Seldén Sailjuice Winter Series



2021/22 Roger Gilbert & Ben McGrane (505)

2020/21 Simon Horsfield & Katie Burridge/ Natalie Johnson (2000)

2019/20 Simon Horsfield & Katie Burridge (2000)

2018/19 Simon Horsfield & Katie Burridge (2000)

2017/18 Alistair Goodwin (Laser)

2016/17 Matt Mee & Emma Norris (RS200)

2015/16 Ian Dobson & Andy Tunnicliffe (GP14)

2014/15 Nick Craig & various crews (Merlin Rocket)

2013/14 Michael Sims (Solo)

2012/13 Tom Gillard & Simon Potts (Fireball)

2011/12 Peter Gray & Rachael Rhodes (Scorpion)

2010/11 Andy Peake (Musto Skiff)

2009/10 Olly Turner & Richard Whitworth (Merlin Rocket)



SailJuice.com is the 'how to sail and race faster' website, with hundreds of articles and exclusive interviews with National, World and Olympic Champions. Professional sailing journalist and editor of SailJuice.com, Andy Rice, came up with the concept of the SailJuice Winter Series (originally known as the SailJuice Global Warm-Up) as a way of increasing participation levels in dinghy racing during the off-season in the UK.


SailRacer manages event websites and processes online entry for major National, International, Youth and training events, providing online scoring, analysis and advanced sports presentation including GPS tracking and live video.


Seldén Mast Ltd is the world leader in dinghy spars. More races are won by Seldén Spars than any other brand. Dinghy spars are made using Seldén unique XPS aluminium with CNC cut tapers, automated welding and heat treating resulting in the highest quality and most consistent dinghy spars available. Seldén also produces about 400 carbon masts per year for boats including high performance dinghies and race yachts using state of the art Mandrel Filament Moulding Technology.



Craftinsure aims to make boat insurance as effortless as possible with an easy to navigate website and app which allows you to make changes to your cover quickly and with ease. With 'New for Old' cover at competitive prices, Craftinsure insures over 25,000 boats with excellent customer reviews which you can read on Trustpilot.