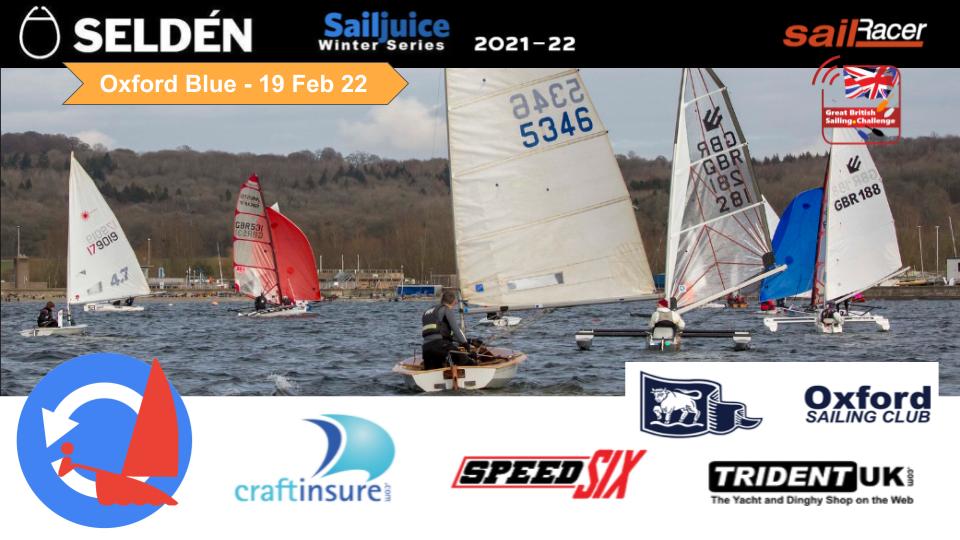 The Seldén SailJuice Winter Series concludes this Saturday at the Oxford Blue, and the forecast is looking somewhat fresh for Farmoor Reservoir...
Batten down the hatches! Storm Eunice is on her way to continue the bad work started by her cousin Dudley on Wednesday. But the hope is that the worst of Eunice will be well behind us by the time competitors are rigging up for this Saturday's Oxford Blue at Farmoor Reservoir.
The final event of a Seldén SailJuice Winter Series that has hurled all extremes of weather at Britain's toughest dinghy racers, the Oxford Blue could prove the toughest test yet for the 70-plus boats entered from more than 30 different classes.
Will it be another day to suit the 505s? Roger Gilbert & Ben McGrane have already won an unprecedented three events so far this season, enough to bring them Series victory before this weekend is even contested.
Then again, it's a smaller race course which could play more to the strengths of the slower but more manoeuvrable classes such as the various hiking singlehanders. There will be at least three flavours of RS Aero competing, the brand new 6 rig going out against the more established 5s and 7s.
The Seldén SailJuice Winter Series does it best to welcome all-comers and two seldom spotted beasts are entered for the Oxford Blue: the Iso and the Snipe. It's going to be a fascinating weekend of high-speed action.
Meanwhile here's a round-up of the story so far this winter...
Overall rankings
With five events now completed, the first discard kicks in. Roger Gilbert and Ben McGrane (505 - Netley SC), have now won three events, and second in the fourth, so no surprise to see them jump 13 places to take the top spot and uncatchable. Last year's runner up Luke Fisher (RS Vareo - Emberton Park SC), drops to second, with Ben Flower (Laser ILCA 7 - Paignton SC) third. Beyond the winning 505, places are still very close, with 19 boats having the potential to make the top 10.
https://enter.sailracer.org/eventsites/content.asp?id=48279&eventid=222049&templ=
RestartSailing Top Club
The Laser Radial (ILCA 6) class had a strong showing at the breezy Tiger Trophy and jump 3 places to the top of the class rankings, knocking the Laser (ILCA 7) class from 1st. The RS200s jump 2 places to complete the podium. Rankings based on the best three results for each class across every race.
https://enter.sailracer.org/eventsites/content.asp?id=48260&eventid=222049&templ=222049
Trident Top Club
Lymington Town SC sailors had some good results at Rutland and hold onto Trident Top Club, with Draycote and Burghfield not far behind.
https://enter.sailracer.org/eventsites/content.asp?id=48261&eventid=222049&templ=222049
CraftInsure Club Rankings
It is great to see more family teams, either sailing together or in separate boats, competing for CraftInsure Family Rankings at Seldén SailJuice Winter Series events. Nigel and Andy Bird (Enterprise) continue to top the CraftInsure Family Rankings, with father and daughter team, Chris and Abigail Larr (RS400 - Dratycote SC), moving up to second place after a great result at the Tiger Trophy. Roger and James Blake (Osprey), complete the podium.
https://enter.sailracer.org/eventsites/content.asp?id=48262&eventid=222049&templ=222049
Great British Sailing Challenge extracted rankings
Based on the extracted results for each category across every race, with a discard for every three races.
Top Lady
Ellie Craig (RS Aero 7 - Starcross), has competed in all events and heads the leaderboard for Top Lady rankings, from Serena Stewardson (Supernova - Emberton Park SC), with defending champion, Val Millward (Challenger - Rutland SC), in third.
https://enter.sailracer.org/eventsites/results_mainp.asp?eventid=222049&templ=222049&classtype=Female
Youth
Maddie Childs (Laser Radial ILCA 6 - King George SC) holds onto the top youth spot, but with defending champion Harry George and Ralph Cawthorne (Lymington Town SC) closing the gap.
https://enter.sailracer.org/eventsites/results_mainp.asp?eventid=222049&templ=222049&classtype=Youth
Other rankings
https://enter.sailracer.org/eventsites/content.asp?id=48256&eventid=222049&templ=222049
There's still time to enter the Oxford Blue this Saturday: www.sailjuiceseries.com
THE EVENTS
The following events are in the Seldén SailJuice Winter Series 2021/22:
Fernhurst Books Draycote Dash, Draycote Water SC
Datchet Flyer, Datchet Water Sailing Club
Yorkshire Dales Brass Monkey, Yorkshire Dales SC
Burghfield Breezer, Burghfield Sailing Club
Grafham Grand Prix, Grafham Water Sailing Club
GJW Direct Bloody Mary, Queen Mary Sailing Club
King George Gallop, King George Sailing Club
John Merricks Tiger Trophy, Rutland Sailing Club
Oxford Blue, Oxford Sailing Club
You can find out more about the Series here: www.SailJuiceSeries.com
Photo Credits: Tim Olin
Notes to editors:
Previous winners of the Seldén Sailjuice Winter Series
2020/21
Simon Horsfield & Katie Burridge/ Natalie Johnson (2000)
2019/20
Simon Horsfield & Katie Burridge (2000)
2018/19
Simon Horsfield & Katie Burridge (2000)
2017/18
Alistair Goodwin (Laser)
2016/17
Matt Mee & Emma Norris (RS200)
2015/16
Ian Dobson & Andy Tunnicliffe (GP14)
2014/15
Nick Craig & various crews (Merlin Rocket)
2013/14
Michael Sims (Solo)
2012/13
Tom Gillard & Simon Potts (Fireball)
2011/12
Peter Gray & Rachael Rhodes (Scorpion)
2010/11
Andy Peake (Musto Skiff)
2009/10
Olly Turner & Richard Whitworth (Merlin Rocket)
SailJuice.com is the 'how to sail and race faster' website, with hundreds of articles and exclusive interviews with National, World and Olympic Champions. Professional sailing journalist and editor of SailJuice.com, Andy Rice, came up with the concept of the SailJuice Winter Series (originally known as the SailJuice Global Warm-Up) as a way of increasing participation levels in dinghy racing during the off-season in the UK.
SailRacer manages event websites and processes online entry for major National, International, Youth and training events, providing online scoring, analysis and advanced sports presentation including GPS tracking and live video.
Seldén Mast Ltd is the world leader in dinghy spars. More races are won by Seldén Spars than any other brand. Dinghy spars are made using Seldén unique XPS aluminium with CNC cut tapers, automated welding and heat treating resulting in the highest quality and most consistent dinghy spars available. Seldén's quality, performance, and repeatability also extends to its carbon range, providing carbon spars to high performance dinghies and race yachts throughout the world.