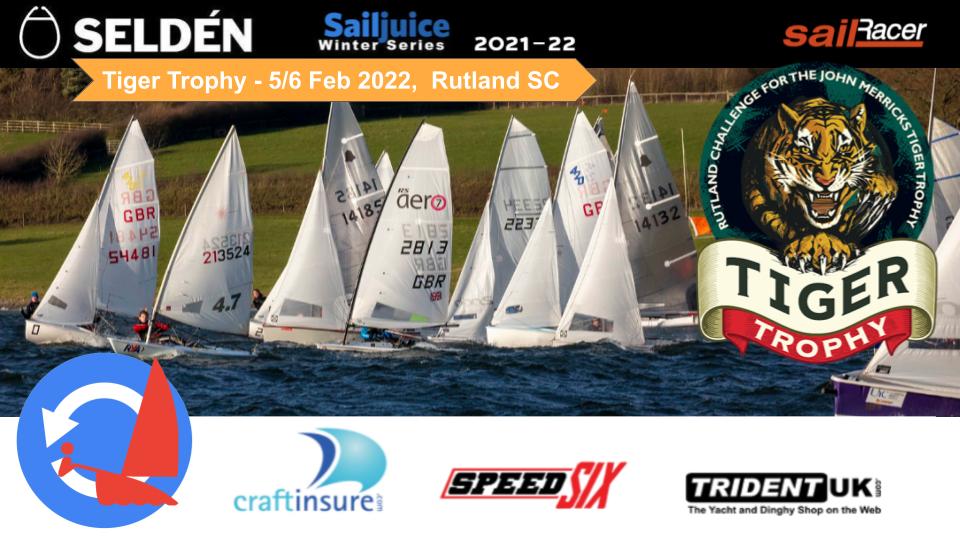 Next up in the Seldén SailJuice Winter Series is the Tiger Trophy at Rutland Sailing Club, with some well-known names ready to compete for the title...
Winners of the past two Tiger Trophies are among the leading contenders for next weekend's event at Rutland Sailing Club on 5 & 6 February. This is the fifth event in this season's Seldén SailJuice Winter Series.
Last year's victors Dave Hall and Paul Constable have competed at every edition of the Tiger Trophy in honour of their late friend, John Merricks, widely considered the greatest sailor to have emerged from Rutland. Hall & Constable's Fireball will be up against the winners from the previous year, Neil Marsden and Jonny McGovern back in their 470. Nathan Batchelor & Sam Pascoe are not regulars in the RS400 together but this Ovington Boats works team have won plenty of major titles in other classes and are likely to be fast. Nick Craig & Toby Lewis would be fast if they were in an RS400 too, but they're chancing their handicap opportunities in a GP14 dinghy instead.
Others to watch include Amelie Hiscocks crewed in the 29er by her double Olympic medal-winning dad Simon. There's a strong contingent of the Tylecote family also entered, with Fiona Tylecote and Sarah Kemp racing a 2000, and Fiona's sons Jamie and Ben Tylecote each racing ILCA 6 singlehanders. Roger Gilbert & Ben McGrane have already won two events so far in the Seldén SailJuice Winter Series and are looking to consolidate their position in the overall rankings with a good score from Rutland.
With more than 50 boats already entered in a range of classes, the Tiger Trophy is shaping up to be one of the most competitive and well-attended events of this winter.
To put your name down for the racing and the legendary Tiger Dinner on Saturday night, enter below.
THE EVENTS
The following events are in the Seldén SailJuice Winter Series 2021/22:
Fernhurst Books Draycote Dash, Draycote Water SC
20 & 21 November 2021
Datchet Flyer, Datchet Water Sailing Club
11 & 12 December 2021
CANCELLED -
Yorkshire Dales Brass Monkey, Yorkshire Dales SC
27 December 2021
Burghfield Breezer, Burghfield Sailing Club
27 December 2021
CANCELLED -
Grafham Grand Prix, Grafham Water Sailing Club
2 January 2022
CANCELLED -
GJW Direct Bloody Mary, Queen Mary Sailing Club
8 January 2022
King George Gallop, King George Sailing Club
22 January 2022
John Merricks Tiger Trophy, Rutland Sailing Club
5 & 6 February 2022
Oxford Blue, Oxford Sailing Club
19 February 2022
You can find out more about the Series here: www.SailJuiceSeries.com
Photo Credits: Tim Olin
Notes to editors:
Previous winners of the Seldén Sailjuice Winter Series
2020/21 Simon Horsfield & Katie Burridge/ Natalie Johnson (2000)
2019/20 Simon Horsfield & Katie Burridge (2000)
2018/19 Simon Horsfield & Katie Burridge (2000)
2017/18 Alistair Goodwin (Laser)
2016/17 Matt Mee & Emma Norris (RS200)
2015/16 Ian Dobson & Andy Tunnicliffe (GP14)
2014/15 Nick Craig & various crews (Merlin Rocket)
2013/14 Michael Sims (Solo)
2012/13 Tom Gillard & Simon Potts (Fireball)
2011/12 Peter Gray & Rachael Rhodes (Scorpion)
2010/11 Andy Peake (Musto Skiff)
2009/10 Olly Turner & Richard Whitworth (Merlin Rocket)
SailJuice.com is the 'how to sail and race faster' website, with hundreds of articles and exclusive interviews with National, World and Olympic Champions. Professional sailing journalist and editor of SailJuice.com, Andy Rice, came up with the concept of the SailJuice Winter Series (originally known as the SailJuice Global Warm-Up) as a way of increasing participation levels in dinghy racing during the off-season in the UK.
SailRacer manages event websites and processes online entry for major National, International, Youth and training events, providing online scoring, analysis and advanced sports presentation including GPS tracking and live video.
Seldén Mast Ltd is the world leader in dinghy spars. More races are won by Seldén Spars than any other brand. Dinghy spars are made using Seldén unique XPS aluminium with CNC cut tapers, automated welding and heat treating resulting in the highest quality and most consistent dinghy spars available. Seldén's quality, performance, and repeatability also extends to its carbon range, providing carbon spars to high performance dinghies and race yachts throughout the world.