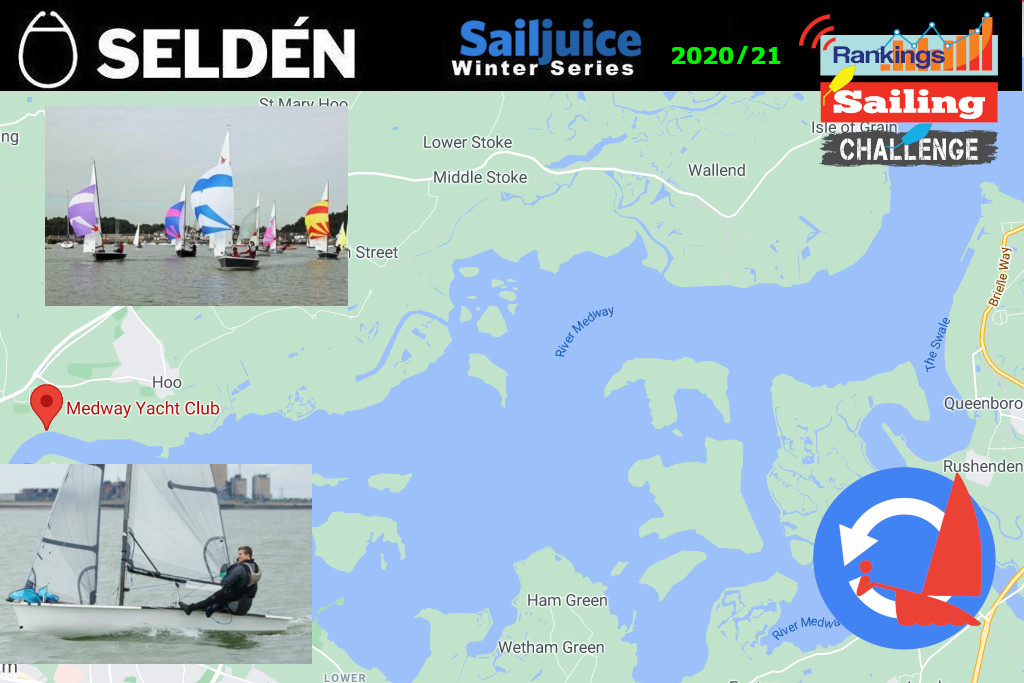 Most events in the Selden SailJuice Winter Series are fast and frantic spins around a hectic short course, so the inclusion of the Medway Marathon is a 26-mile long distance departure from the norm.
Taking place on the Medway River on Saturday 19 June, the Marathon has been hosted by Medway Yacht Club for many years and attracts all kinds of monohull sailing craft to the east coast venue. Dinghies with a Great Lakes handicap PY of 1315 or less are eligible to compete alongside the local keelboat fleets of International Dragons, National Sonatas and National Squibs. The event is not open to kiteboards, sailboards, multihulls or foiling boats.
For the under-23s, the 13-mile Half Marathon is a shorter option, although challenging neverthless. Local sailor Graeme Oliver won the Medway Marathon crewing for Andy Peake in an International 14 back in 2016. "It was 12-18kts of breeze, absolute sailing heaven, flat water, loads of corners with a big emphasis on crew work and reading the changing conditions as you go in and out of the creeks." The year after that Peake won in a Musto Skiff, but the following year was dominated by Wayfarers taking the top four places. "The race is run by a great club and literally any class can win, the course tests every part of the angles of sail which doesn't give a huge advantage to any particular boat, it's also a great tactical challenge as the tide plays a big part in getting the best out of the course. Once you've tried it you'll come back every year!"
The Medway Marathon is a very recent addition to the Seldén SailJuice Winter Series which has been extended from last winter through to the final event which is the rescheduled Tiger Trophy, due to take place at Rutland Water on the final weekend of August. To enter the Medway Marathon (or the Half Marathon if you're under-23) and compete in an event that's very different to your average open meeting, go here: sailjuiceseries.com
THE EVENTS
The following events will count towards the scoring of the Seldén SailJuice Winter Series 2020/21:
Datchet Flyer, Datchet Water SC, 6-7 December 2020
Grafham Belle, Grafham Water SC, 29-30 May 2021
Medway Marathon, Medway YC, 19 June 2021
Bala Long Distance, Bala SC, 10-11 July 2021
Tiger Trophy, Rutland Water SC, 28-29 August 2021
You can find out more about the Series here: www.SailJuiceSeries.com
Photo Credits: name of photographer in photo file name
Notes to editors:
Previous winners of the Seldén Sailjuice Winter Series
2019/20 Simon Horsfield & Katie Burridge (2000) 2018/19
Simon Horsfield & Katie Burridge (2000) 2017/18
Alistair Goodwin (Laser) 2016/17
Matt Mee & Emma Norris (RS200) 2015/16 Ian Dobson & Andy Tunnicliffe (GP14) 2014/15 Nick Craig & various crews (Merlin Rocket) 2013/14 Michael Sims (Solo) 2012/13 Tom Gillard & Simon Potts (Fireball) 2011/12 Peter Gray & Rachael Rhodes (Scorpion) 2010/11 Andy Peake (Musto Skiff) 2009/10 Olly Turner & Richard Whitworth (Merlin Rocket) SailJuice.com is the 'how to sail and race faster' website, with hundreds of articles and exclusive interviews with National, World and Olympic Champions. Professional sailing journalist and editor of SailJuice.com, Andy Rice, came up with the concept of the SailJuice Winter Series (originally known as the SailJuice Global Warm-Up) as a way of increasing participation levels in dinghy racing during the off-season in the UK.
SailRacer manages event websites and processes online entry for major National, International, Youth and training events, providing online scoring, analysis and advanced sports presentation including GPS tracking and live video.
Seldén Mast Ltd is the world leader in dinghy spars. More races are won by Seldén Spars than any other brand. Dinghy spars are made using Seldén unique XPS aluminium with CNC cut tapers, automated welding and heat treating resulting in the highest quality and most consistent dinghy spars available. Seldén also produces about 400 carbon masts per year for boats including high performance dinghies and race yachts using state of the art Mandrel Filament Moulding Technology.